Season 3, Episode 17: The Last Summer Ever
---
previous | index | next
---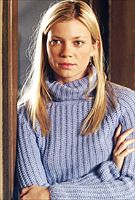 Aired: Wednesday, May 23, 2001

Rating: 2.8/4

Quotes

Credits

Written by Jennifer Levin & Josh Reims
Directed by Tony Bill

Guest starring


Amy Aquino as Toni Pavone
Donald Faison as Tracy
Ian Gomez as Javier Quintata
Sarah-Jane Potts as Molly
Amy Smart as Ruby
Brynn Thayer as Mrs. Crane
Kenan Thompson as DeForrest Ingram


Co-starring


Anna Goldsman as guest speaker

---
Soap Opera Digest gives Felicity Thumbs Up for "Ben There, Done That." By now, you'd think Felicity fans would have grown tired of watching Ben and Noel battle it out for our heroine's affections. But as the stellar show wrapped its third season, we couldn't help but get sucked back into this tantalizing triangle.

Wisely, this tug of war wasn't overtly played throughout the year. Felicity was with Ben (despite obstacles like his attraction to rich bitch Avery) in an abiding relationship that showcased their common soulfulness. As for Noel, he and Felicity navigated their battle-scarred friendship, struggling to compartmentalize the complicated but undeniable ties they still felt to one another from their days as boyfriend and girlfriend.

So, it was a subtle pull felt by Felicity in the finale. Noel still had unspoken feelings for her, and she for him, despite her romance with Ben. Complicating matters further was Ben's desire to attend EMT training in Kansas, which would derail their plans to go camping all summer.

In the end, Ben headed to the Midwest, while Felicity opted to spend the summer in N.Y.C. She and Noel shared a poignant good-bye before he left for his new job in Seattle, and he later sent her an audiotape in which he expressed his true emotions.

But it didn't end there. As Felicity unpacked in the loft, in walked – surprise! – Noel, whose job had been canceled. Rather than play the obvious awkwardness or tension between them, the duo eased back into the tight friendship that bonded them in the first place. Could the summer heat things up between this star-crossed duo? Oh, yeah. And will Ben be a happy camper when he returns? Let's say no. Will we see them all in September?

You couldn't keep us away.


---
previous | index | next
---