amy smart as ruby
Last updated: February 27, 2000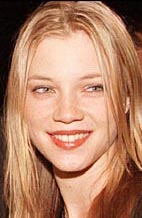 Born: March 25, 1976 in Topanga Canyon, CA.
Film credits: Road Trip (2000), Outside Providence (1999), Varsity Blues (1999), How to Make the Cruelest Month (1999), Strangeland (1998), Starstruck (1998), Circles (1998), Starship Troopers (1997), The Last Time I Committed Suicide (1997), Campfire Tales (1997), High Voltage (1997), A & P (1996), Rune (year unknown).
TV credits: Felicity (1999-00), Her Costly Affair (1996), Seduced by Madness: The Diane Borschardt Story (1996).
Bio: Born and raised in Los Angeles, Smart has acted since she was a teenager. She is currently a spokesperson for Heal the Bay (a California environmental organization dedicated to the preservation of the Santa Monica Bay). Smart can next be seen in "Road Trip," a film about four college students travelling across country.
Links: Check out her official site, www.amysmart.com.