Dash Mihok as Lynn
Last updated: September 7, 1999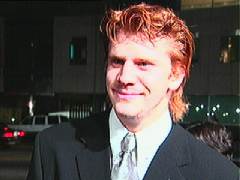 Born: May 24, 1974 in New York City.
Film Credits: White Boys (1999), Telling You (1998), The Thin Red Line (1998), Romeo and Juliet (1996), Sleepers (1996), Foxfire (1996)
Tv Credits: Calm at Sunset (1997), Pearl (1996), Murderous Intent (1995), Law & Order (guest), New York Undercover (guest), NYPD Blue (guest).
Personal: Currently dating Alanis Morissette.
Bio: Grew up in Westbeth, New York. Has appeared in "The Thin Red Line" and on TV opposite Rhea Perlman in "Pearl"; received strong reviews for his role as a mentally-unbalanced man in CBS's "Murderous Intent." Dash was recently considered for the lead role in the CBS series "Love and Money," until producers axed him for not having chemistry with his co-star, Paget Brewster (you know, the girl that Joey dated until she decided she liked Chandler better). As of now, his status on Felicity is unclear.
Weird Facts: Was named after famed writer Dashiell Hammett.