greg grunberg as sean blumberg
Last updated: September 6, 1999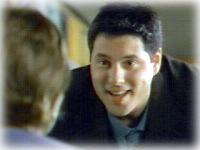 Birth: unknown; in his early thirties.
Films: The Hollow Man (2000), Senseless (1998), BASEketball (1998), Dinner & Driving (1999), Picture Perfect (1997), The Trigger Effect (1997), The Pallbearer (1996), Witchcraft V: Dance with the Devil (1993)
TV: Felicity (1998-00), Frankenstein: The College Years (movie, 1991), Stolen: One Husband (movie, 1991). Guest appearances: Pacific Blue (1996), Silk Stalkings (1991), Alright Already (1997), Mike Hammer, Private Eye (1997), Relativity (1996), Murphy Brown (1988), Ned & Stacey (1995), Flying Blind (1992), Melrose Place (1992), Baywatch
(1989), Oh Baby (1998)
Bio: Was a former kindergarten classmate of creator J.J. Abrams (apparently, nepotism goes a long way), and will return as a series regular for season two (as Ben's inventor roomie). Can be seen in next year's "Hollow Men."
Personal: Unknown