janeane garofalo as sally
Last updated: September 7, 1999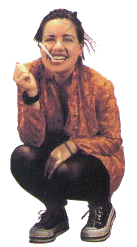 Born: September 28, 1964 in Newton, New Jersey.
Film Credits: Planet Ice (2000), Mystery Men (1999), 200 Cigarettes (1999), McClintock's Peach (1999), Abbie! (1999), Bumblebee Flies Away (1999), Can't Stop Dancing (1999), Dogma (1999), The Minus Man (1999), Thick as Thieves (1999), Half Baked (1998), Clay Pigeons (1998), Dog Park (1998), Permanent Midnight (1998), The Matchmaker (1997), Cop Land (1997), Romy & Michelle's High School Reunion (1997), Touch (1997), Larger Than Life (1996), The Cable Guy (1996), The Truth About Cats and Dogs (1996), Kids in the Hall: Brain Candy (1996), Sweethearts (1996), Now & Then (1995), Coldblooded (1995), Bye Bye Love (1995), I Shot A Man in Vegas (1995), Reality Bites (1994), Suspicious (1994), Late for Dinner (1991)
Tv Credits: Regular cast member: Felicity (voice, 1998), Saturday Night Live (1975), Tales of the City (1993), The Ben Stiller Show (1992), The Larry Sanders Show (1992). Guest appearances: The Simpsons (1989), Law & Order (1990), Home Improvement (1991), Space Ghost Coast to Coast (1994), Seinfeld (1990), Ellen (1994), Dr. Katz, Professional Therapist (1995), Mr. Show (1995), NewsRadio (1995), The Adventures of Pete and Pete (1993).
Personal: Lives in Hollywood with her comedian boyfriend.
Bio: Grew up in New Jersey and moved to Houston, Texas during her senior year in high school. In her senior year of college, she began doing stand up comedy and moved to Los Angeles. Can be currently seen in the cult hit Mystery Men and in the upcoming Planet Ice as the voice of, er, someone (anyone know?).
Weird Facts: Considered a secretarial career until Late Night with David Letterman inspired her to try comedy.