amy jo johnson as julie emrick
Last updated: December 20, 1999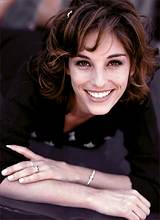 Born: October 6 in Cape Cod, Massachusetts.
Film Credits: Cold Hearts (1999), Without Limits (1998), Turbo: A Power Rangers Movie (1997), Mighty Morphin Power Rangers - The Movie (1995)
Tv Credits: Felicity (1998-00), Sweetwater (1999), Perfect Body (1997), Killing Mr. Griffin (1997), Susie Q (1996), Mighty Morphin Power Rangers (1993),
Saved by the Bell: The New Class (guest, 1993), Campus Cops (guest, 1993)
Personal: Dating John Mosely, a gold medal winning skier (mogeller?) from the U.S.
Bio: Hit the small screen as the Pink Power Ranger in the Mighty Morphin Power Rangers series in 1993, after years of performing as a gymnast. Recently, Amy Jo has appeared in "Without Limits" (about the life of Steve Prefontaine) and will play a vampire in the upcoming "Cold Hearts." She also played the lead in "Sweetwater," a VH1 special about a disappearing 60's rock band. In real life, she sings and plays guitar with her band Valhalla.
Weird Facts: Takes her pitbull, Lucy, to the set of Felicity.