scott foley as noel crane
Last updated: September 6, 1999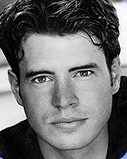 Born: 1972, in Kansas City, KS.
Tv Credits: Felicity (1998-00), Dawson's Creek (Cliff Elliott, 1998), Forever Love (1998), Someone to Love Me (1998), Crowned and Dangerous (1997)
Film credits: Scream 3 (1999), Archie (date unknown--possible)
Personal: Has been dating Jennifer Garner (Hanna) since October '98.
Bio: Launched acting career as 'Cliff the Jock' on Dawson's Creek (where he caught the attention of Hollywood execs), then appeared as 'Montana the hunk' on the premiere episode of "Zoe, Duncan, Jack & Jane." He'll play a hip music director in the upcoming Scream 3 with Neve Campbell & Courtney Cox; it's rumored that he'll play the role of Reggie in the comic-based Archie.
Weird Facts: Once sold Mrs. Fields cookies.