tangi miller as elena tyler
Last updated: September 6, 1999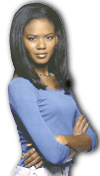 Born: February 28, 1970, in Miami, Florida.
Film Credits: The Other Brother (1999), Tears of a Clown (1997), Rhinos.
Tv Credits: Felicity (1998-00), Arliss (guest), Michael Hayes (guest).
Personal: Last I heard, she was single...
Bio: After majoring in marketing at Alabama State University, Tangi decided to pursue acting, and obtained a master's degree in Fine Arts from U.C. Irvine (where she performed as a Showcase Artist). Her dance specialty is African and Caribbean dance. Look for Tangi in The Other Brother, with Mekhi Pfeiffer, later this year.
Weird facts: Has a pet parrot named 'Tekay.'