keri russell as felicity porter
Last updated: February 27, 2000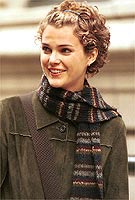 Born: March 23, 1976 in Fountain Valley, CA.
Film credits: Mad About Mambo (1999); The Curve (1998); Eight Days a Week (1997); Honey, I Blew Up the Kid (1992).
TV credits: Felicity (1998-00), Cinderelmo (movie, 1999), Roar (1997), When Innocence is Lost (1997), The Lottery (1996), Malibu Shores (1996), The Babysitter's Seduction (1995), Daddy's Girl (1994), Emerald Cove (1994), Mickey Mouse Club In Concert (1993), Mickey Mouse Club (1989), 7th Heaven (guest, 1996), Married...with Children (guest, 1995), Boy Meets World (guest, 1993).
Personal: Reportedly dating Scott Speedman (Ben).
Bio: Began acting on the Mickey Mouse Club in 1991, then landed the lead role of Chloe in Aaron Spelling's short lived "90210 by the beach" series Malibu Shores. On TV, she appeared in the special "Cinderelmo," playing the lead role of Cinderella, and can be seen on the big screen in the "Mad About Mambo" with Gabriel Byrne. Future possible projects include "Pearl Harbor" co-produced by Jerry Bruckheimer and Michael Bay.