scott speedman as ben covington
Last updated: February 10, 2000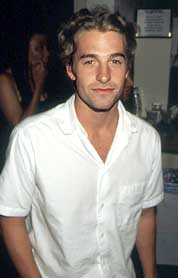 Born: September 1, 1976 in London, England
Film Credits: Duets (2000), Kitchen Party (1997), Ursa Major (1997)
Tv Credits: Felicity (1998-00), Every 9 Seconds (1997), What Happened to Bobby Earl? (1997), Dead Silence (1997), Giant Mine (1996), Nancy Drew (1995), Net Worth (1995), Goosebumps (guest, 1995), Nancy Drew (guest, 1995), Kung Fu: The Legend Continues (guest, 1992)
Personal: Reportedly dating Keri Russell.
Bio: Hails from Toronto, Canada, where he got his acting break on a public video platform outside a television studio in Toronto. Began his film career with "Kitchen Party," an independent film from Canada, and attended both the University of Toronto and a college in New York. Can be seen in the upcoming film "Duets" with Gwyneth Paltrow and ER's Maria Bello.
Weird Facts: Tried out for the role of Robin (as in Batman) as an unknown in Toronto.